17 Jul 2013

Yes it is hot out there!, at least it is on land! We have been the lucky recipients of a sea breeze the past few days and 82 degrees with a light sea breeze will trump 92 degrees in land and no air any day!!! I've stayed with what works for me and have been getting out on the water by 6:30 am. Early for some but this gives us the best opportunity to catch live bait which catches us better bass. The bait seems to shut off around 8 am.

The fishing has been very good in the river during the out going tide and I have found several spots where the stripers are feeding along the beach front during the incoming tides. This past June was one of my best for better bass and July is heading that way too. One word of advice whether you fish from Summer Job or your own boat. Bring a pair of light weight long pants to pull on if you plan to fish anywhere near the beach. This is just a simple precaution, it only takes 4 flies to ruin a good time at a picnic, no different on a boat.

My streak is still going strong, I've found keeper bass for those who want to put them on the grill, every trip this year. No guarantees it will continue all summer but so far, so good!

On the bluefish front. There were a few around in the mouth of the Merrimack snacking on our live mackerel. I did not see any my last trip but I'm guessing there might be some on the southern end of Plum Island. There have been many reports (some first hand reports) of blues up to 18#s off "the rock pile" and in Gloucester.

Summer is half over, get out there and FISH!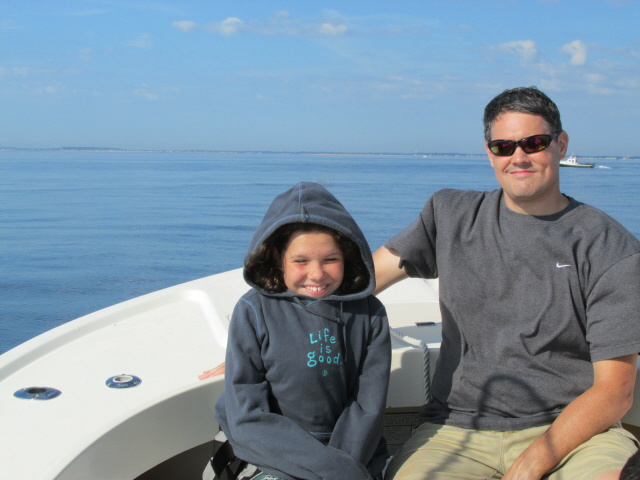 Fishing charters are not just about fishing! This is Chris & Kaylan Markuns on a recent fishing trip on Summer Job. Missing from this photo are Grampa John and son Max.
Good fishing
Capt. Scott