23 Mar 2014

If you are reading this, you are beyond ready for Spring to arrive much less fishing season. The cover shot was the SST (sea surface temperature) chart for March 22, 2014. Yes it is cooler than last years, much cooler. Stripers follow bait north and actively feed at around 50 degrees (10 Celsius). They start hitting surface plugs at 55 degrees. We are now looking at 4 Celsius (39.2 degrees) at the mouth of the river. But cheer up! This is New England and things can & often do, change quickly! It may bring some "quick" water so be careful in the rivers but the ocean front could be the place to fish while the spring run off subsides. Read some of the old fishing reports and you will notice that the first schoolies are caught off the beach, then in the rivers where the water is warmer. If the run off is to strong or cold, they may just stay on the beaches for a while. It is at least an educated guess and worth checking out come mid May.

While I wait for May I am getting ready for my charter season. Yesterday I was molding 1 1/2 oz egg sinkers, 1 oz jig heads with sturdy hooks and 1 1/2 & 2 oz diamond jigs for mackerel. Reels have already been completely broken down, cleaned & repaired where needed , then re spooled with fresh line. Rods cleaned & wiped down with Penn cleaning oil. This not only keeps them looking good, it helps keep the mackerel scales from redecorating them. I have also been busy tying new circle hooks on fluorocarbon leaders. I never start a season with less than 150 hooks ready to go! I hate doing anything on the boat while fishing that could be done ahead of time. A hastily tied hook can fail. Who wants to be holding the rod when that happens?? Not me..........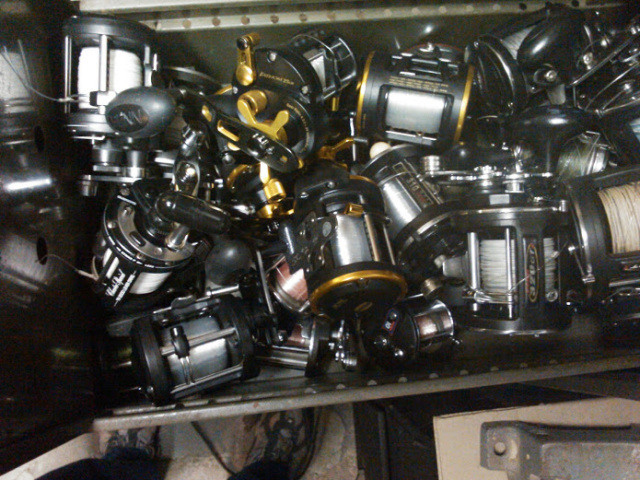 A file drawer full of reels ready for the 2014 season
It has been fun catching up with many of my regular clients on the phone & email. I've known some for over 12 years & watched their kids grow up. I've also been booking a few trips for this summer. I have added a Summer Job Calendar page to my web site. It is a good way to find out available days to fish as well as see what that customer caught on his or her last trip . This is the reason why they keep coming back to fish on Summer Job. Really folks, this new boat really knows where the fish are! :)) Had I known I would have bought it sooner!!
It's time to go back to work, there are plenty of projects to finish reading for summer 2014. It is also a great way to re-live some of the fun of 2013!
Good fishing
Capt. Scott