STRIPED BASS AND BLUEFISH
Saltwater Sportfishing off the Northeast Coast of Massachusetts.
Summer Job Fishing Charters offers private charters, charter fishing (sportfishing) for striped bass (striper's), bluefish and mackerel in the Northeast, including the Merrimack River and Plum Island in Newburyport, Massachusetts.
Spring is coming!
(Really, it is!!)
Winter is 2/3's over, my gear is ready and I wake up to early in the morning, thinking about fishing! Going back to sleep is not in the cards as I plot new ways to catch fish!
If you are as obsessed with fishing as I am, please consider a fishing trip on Summer Job. Give me a call or send an email and we will set you up for a great day on the water.
Check out our Fish Photos pages!
Nick Grover does it again! This lucky "keeper" was released unharmed.
Melody "the fish magnet" with her dad.
Come on down, the waters fine!!
Megan's

1st

striper caught on a live mackerel!
Capt

. Scott has over 30 years

experiance

fishing the area and has been hosting
striped bass fishing charters since 1999
.
"Full time since '99"
It's time to start planning your summer fishing fun!
Fishing out of Newburyport, MA
***********************
Book your MA fishing charter early as the best dates go fast.
It keeps on getting better and better!!!
Sara's live lined striper!
Ask any "striper expert" and they will tell you the only good striper fishing is in June! Let them think what they will, join me on Summer Job for a "tiny" striper like Sara's caught in August !
We have good days and very good days on the Merrimack River!! It can be a challenge for many and a charter is much cheaper than owning a boat!
Come fish on the Summer Job!
Check out our Fish Photos pages!
Check out or Summer Job Calendar for open Dates
Come join the fun on Summer Job!
If you are interested in a fishing adventure this summer, please call 978-465-2307 and we can set up a time to catch fish and make great memories.
Good fishing
Capt. Scott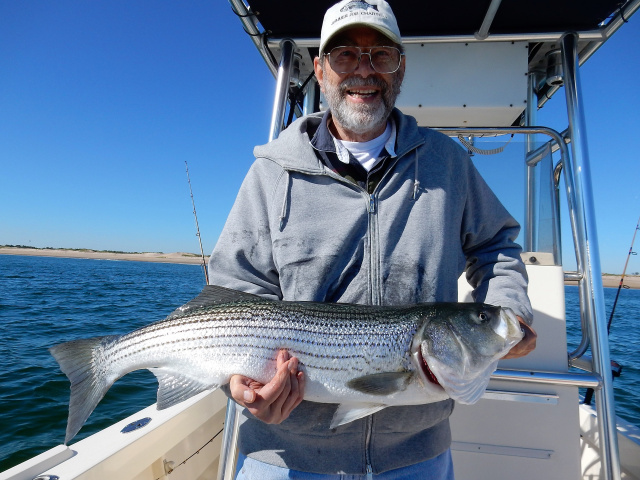 Reserve your charter date NOW!