Fishing Charter Newburyport, Massachusetts
__________________
THIS IS YOUR CHARTER
We are a saltwater sportfishing charter boat operating from Newburyport, Massachusetts, North of Boston. Saltwater Sportfishing off the Northeast Coast of Massachusetts, Summer Job Fishing Charters, private charters, charter fishing (sportfishing) for striped bass (stripers), bluefish, cod or mackerel in the Northeast, including the Merrimack River, Hampton River, Ipswich & Parker Rivers plus the Plum Island beach front.
Choose the type of fishing you prefer:

Catching and live lining these mackerel.... Can equal catching this Striper!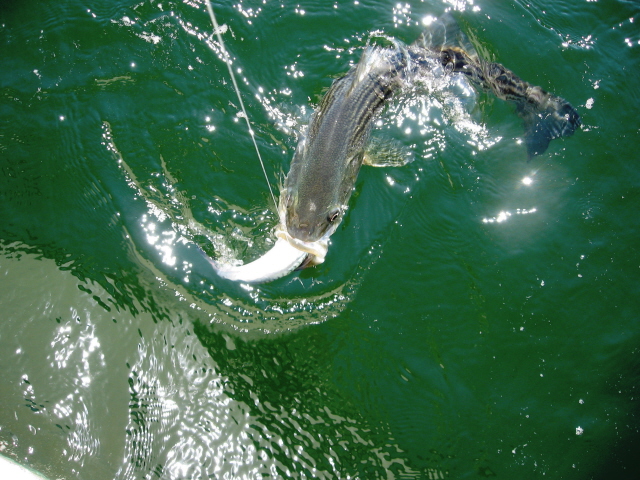 Adventure "outside" to find and catch your own live bait and then "live line mackerel" in the Merrimack River or off the Plum Island beach for a chance at your own throphy.
Deep water chunking for finicky, bigger bass. This is often how the biggest fish of the season is caught!
Troll for Blufish and take as many opportunities to cast to surface feeding fish with poppers & plugs as you would like!
Chose a combo and fish for both when availible!
Light tackle fishing with plugs & shad jigs. This is usually an early season method before the "legal sized" bass arrive.
We support the use of Circle Hooks!

We usually catch many bass that are just under legal size and more legal sized striped bass than we can keep. Using circle hooks allows us to release these fish unharmed to fight another day

_________________________________________________________________
Capt. Scott says.........

I try very hard to plan a day on the water that you will remember for a very long time. I feel that "Luck" is where planning and opportunity come together and we have had many "Lucky" days on Summer Job.

I feel that fishing early in the morning is best in the Merrimack River. This is a very productive, but busy river with many fishing well into the night. I feel the mornings are best becauce the fish have settled down and I cannot stay up late enough at night for that to happen for a charter.

Please call me and we will book a day that is good for you and a time that has a good tide.

Come spend a day on "Summer Job". You will catch fish and we will have fun!!

____________________________________________________________________